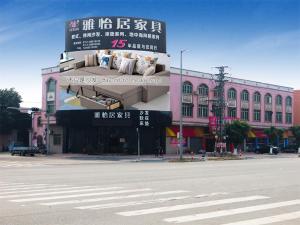 Foshan Nanhai Yuanrich Furniture Co., Ltd., established in 2002, is a professional furniture enterprise focusing on manufacturing and marketing of upscale sofa and sofa bed. Yuanrich has more than 100 employees. The factory covers an area of more than 11,000 square meters, consisting of wood processing workshop, hardware workshop, spring workshop, sofa assembly workshop, sofa bed assembly workshop, mattress assembly workshop and some other workshops as well as several exhibition zones. Yuanrich is equipped with several kinds of advanced machining equipment sets which can provide an annual output of 100,000 mattresses, 10,000 sofas and 15,000 sofa beds. We are glad and able to provide our customers with OEM and ODM services.
Yuanrich is located in Foshan city, Guangdong province, the famous 'City of Furniture' which is next to Guangzhou and Hong Kong. We can get to the Guangzhou Baiyun International Airport and Port of Guangzhou within an hour and the Port of Shenzhen and Hong Kong within 2 hours. Meanwhile, Foshan is equipped with the most mature industrial chain of the furniture industry in the world, various design modeling teams, furniture and related raw material enterprises, mechanical equipment manufacturer and logistics companies etc. which can provide great convenience for furniture production and marketing. The product quality is the primary pursuit of Yuanrich. We can provide 10 years of product quality assurance according to the requirements of the management. So we established strict quality management system according to ISO9001. Yuanrich continuously improves the technology and equipment in order to increase productivity and quality while carrying out effective quality tracking and monitoring during the whole course from raw material selecting, production, machining to finished product storage.
Yuanrich wins the recognition of our customers through 10 years of development and efforts of all our staff. The products sell well both at home and abroad. Now, we have more than 160 exclusive agencies in China and more than 10 stable overseas clients such as AXCESS MARKETING (AUST) PTY LTD, Australia, EST-OUEST COMPAGNIE, France, GOLD DRAGON ANTIQUE CO., America, MISHWAR RESTAURANTS GROUP, Saudi Arabia etc. Yuanrich will continuously insist on the business philosophy in order to provide our customers with more innovative and superior products. We are glad to establish cooperation with you.
Development history
Foshan Nanhai Yuanrich Furniture Co., Ltd. was established in 2002. There are only 20 employees at the beginning of the establishment of Yuanrich, mainly focusing on the production of mattresses.
In 2005, Yuanrich started to produce fabric sofa and sofa bed with the additional sofa production workshop.
In 2007, we started to produce additional leather sofa, mainly consisting of antique leather sofa, contemporary classic leather sofa and modern leather sofa.
In 2008, Yuanrich began to exploit overseas market.
In 2009, our network marketing team was established.
In 2011, the hardware workshop was built for production of mattress bedspring and metal frame of sofa bed.
In 2013, an additional 500-square-meter exhibition hall was established and the used equipment was refreshed.